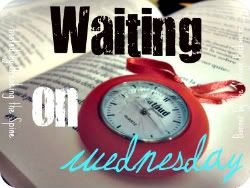 Waiting on Wednsday
is a weekly meme hosted by Jill @ Breaking the Spine.
WOW
spotlights upcoming releases that you are dying to read and can't wait to get your hands on!
Endure, by Carrie Jones
(Need, #4)
Publisher:
Bloomsbury USA Children's
Release Date: May 8, 2012
Pre-Order:
Amazon
It's all-out war (and no-holds-barred romance) in the climactic conclusion to Carrie Jones's bestselling series.




Zara is at the center of an impending apocalypse. True, she's successfully rescued Nick from Valhalla, but it simply isn't enough. Evil pixies are ravaging Bedford, and they need much more than one great warrior; they need an army. Zara isn't sure what her role is anymore. She's not just fighting for her friends; she's also a pixie queen. And to align her team of pixies with the humans she loves will be one of her greatest battles yet. Especially since she can't even reconcile her growing feelings for her pixie king . . .




Unexpected turns, surprising revelations, and one utterly satisfying romantic finale make Endure a thrilling end to this series of bestsellers.
I LOVE this series! This is definitely my favorite fae series! Is this the last book? I think it is, but I don't know for sure. I hope not! I'm really excited to see what happens next to Zara, and then of course Nick and Astley! Maybe this book will help me decide which team I'm on!
I also ADORE this cover!
Who else is waiting for this book? What other book are you waiting on this week?? Leave a comment with a link to your WoW post! I promise I'll check it out and comment!