Past, Present, & Future Reading Pile
is a feature on my blog where I do a post every Sunday to keep track of the books I've read the week before, what I'm currently reading and which books I hope to start and finish during that week.
The Past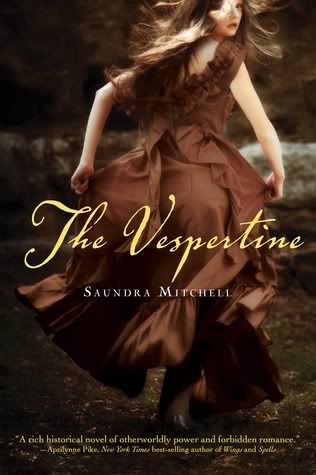 The Vespertine, by Saundra Mitchell
(The Vespertine, #1)
Publisher:
Harcourt Children's
Release Date: March 7, 2011
It's the summer of 1889, and Amelia van den Broek is new to Baltimore and eager to take in all the pleasures the city has to offer. But her gaiety is interrupted by disturbing, dreamlike visions she has only at sunset—visions that offer glimpses of the future. Soon, friends and strangers alike call on Amelia to hear her prophecies. However, a forbidden romance with Nathaniel, an artist, threatens the new life Amelia is building in Baltimore. This enigmatic young man is keeping secrets of his own—still, Amelia finds herself irrepressibly drawn to him. When one of her darkest visions comes to pass, Amelia's world is thrown into chaos. And those around her begin to wonder if she's not the seer of dark portents, but the cause.
Finally was able to pick this up and I liked it. I didn't love it, but I really did like it. You can read my review
here
.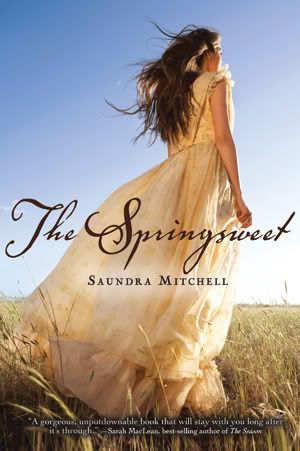 The Springsweet
, by
Saundra Mitchell
(
The Vespertine
, #2)
Publisher:
Harcourt Children's
Release Date:
April 17, 2012
Heartbroken over the tragic death of her fiancé, seventeen-year-old Zora Stewart leaves Baltimore for the frontier town of West Glory, Oklahoma, to help her young widowed aunt keep her homestead going. There she discovers that she possesses the astonishing ability to sense water under the parched earth. When her aunt hires her out as a "springsweet" to advise other settlers where to dig their wells, Zora feels the burden of holding the key to something so essential to survival in this unforgiving land. Even more, she finds herself longing for love the way the prairie thirsts for water. Maybe, in the wildness of the territories, Zora can finally move beyond simply surviving and start living.
I really liked this one! It's a favorite now. I finished it Saturday, and I'm really sad I don't have the third book. =( It doesn't come out until 2013! You can find my review
here
.
Total Books: 2
The Present
The Betrayal of Maggie Blair
, by
Elizabeth Laird
Publisher:
Harcourt Children's
Release Date:
April 18, 2012
In seventeenth-century Scotland, saying the wrong thing can lead to banishment—or worse. Accused of being a witch, sixteen-year-old Maggie Blair is sentenced to be hanged. She escapes, but instead of finding shelter with her principled, patriotic uncle, she brings disaster to his door.




Betrayed by one of her own accusers, Maggie must try to save her uncle and his family from the king's men, even if she has to risk her own life in the process. Originally published in the UK, this book has a powerful blend of heart-stopping action and thought-provoking themes.
I'll be starting this one as soon as I go to bed.
The Future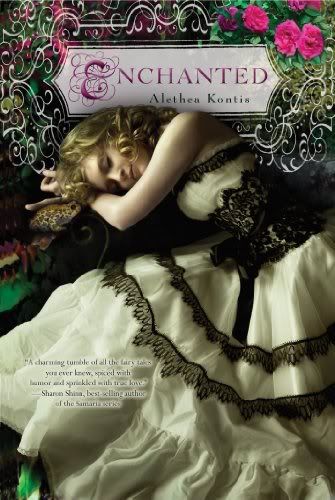 Release Date: May 8, 2012
It isn't easy being the rather overlooked and unhappy youngest sibling to sisters named for the other six days of the week. Sunday's only comfort is writing stories, although what she writes has a terrible tendency to come true.




When Sunday meets an enchanted frog who asks about her stories, the two become friends. Soon that friendship deepens into something magical. One night Sunday kisses her frog goodbye and leaves, not realizing that her love has transformed him back into Rumbold, the crown prince of Arilland—and a man Sunday's family despises.




The prince returns to his castle, intent on making Sunday fall in love with him as the man he is, not the frog he was. But Sunday is not so easy to woo. How can she feel such a strange, strong attraction for this prince she barely knows? And what twisted secrets lie hidden in his past - and hers?
I started this book by accident, though it was next up on my pile, but then realized it was next after the book I have current now. I'll be reading this after I finish The Betrayal of Maggie Blair.
I'm still only picking one book to read right now after my current read until things slow down. If I finish early though, I'll definitely be adding another on!
What books did you read this week? Any good historical fiction ones? What are you currently reading? What about next? Do you know what you're reading next in line? I'd love to know, as always, so please leave a comment letting me know! Maybe I'll find a few new books to add to my LONG list of books on my TBR!