Past, Present & Future Reading Pile is a feature I do on my blog every Sunday to keep track of the books I read the week before, the book I'm currently reading, and the books I'm hoping to read in the upcoming week.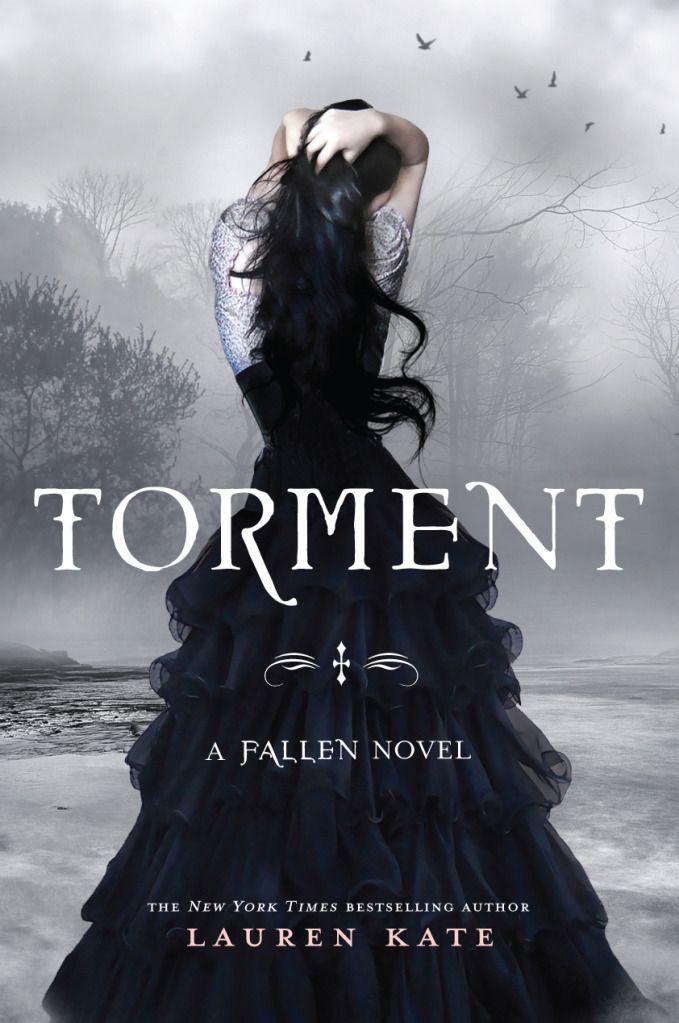 Torment, by Lauren Kate
(Fallen, #2)
Publisher:
Delecorte Books for Young Readers
Release Date: September 28, 2010
Hell on earth.




That's what it's like for Luce to be apart from her fallen angel boyfriend, Daniel.

It took them an eternity to find one another, but now he has told her he must go away. Just long enough to hunt down the Outcasts—immortals who want to kill Luce. Daniel hides Luce at Shoreline, a school on the rocky California coast with unusually gifted students: Nephilim, the offspring of fallen angels and humans.




At Shoreline, Luce learns what the Shadows are, and how she can use them as windows to her previous lives. Yet the more Luce learns, the more she suspects that Daniel hasn't told her everything. He's hiding something—something dangerous.

What if Daniel's version of the past isn't actually true? What if Luce is really meant to be with someone else?
I love this series! I really need to get to Passion soon! *Stares at it longingly* You can read my review
here
.
Darkness Becomes Her
, by
Kelly Keaton
(
Gods and Monsters
, #1)
Publisher:
Simon Pulse
Release Date:
February 22, 2011
Ari can't help feeling lost and alone. With teal eyes and freakish silver hair that can't be changed or destroyed, Ari has always stood out. And after growing up in foster care, she longs for some understanding of where she came from and who she is.

Her search for answers uncovers just one message from her long dead mother: Run. Ari can sense that someone, or something, is getting closer than they should. But it's impossible to protect herself when she doesn't know what she's running from or why she is being pursued.

She knows only one thing: she must return to her birthplace of New 2, the lush rebuilt city of New Orleans. Upon arriving, she discovers that New 2 is very...different. Here, Ari is seemingly normal. But every creature she encounters, no matter how deadly or horrifying, is afraid of her.

Ari won't stop until she knows why. But some truths are too haunting, too terrifying, to ever be revealed.
This was VERY good and unique. I'll definitely be getting the sequel as soon as possible. My review for Darkmess Becomes Her will be up tomorrow! June 25th.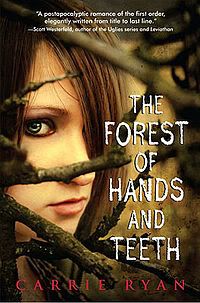 The Forest of Hands and Teeth
, by
Carrie Ryan
(
The Forest of Hands and Teeth
, #1)
Publisher:
Delecorte Books for Young Readers
Release Date:
March 10, 2009
In Mary's world there are simple truths. The Sisterhood always knows best. The Guardians will protect and serve. The Unconsecrated will never relent. And you must always mind the fence that surrounds the village; the fence that protects the village from the Forest of Hands and Teeth. But, slowly, Mary's truths are failing her. She's learning things she never wanted to know about the Sisterhood and its secrets, and the Guardians and their power, and about the Unconsecrated and their relentlessness. When the fence is breached and her world is thrown into chaos, she must choose between her village and her future—between the one she loves and the one who loves her. And she must face the truth about the Forest of Hands and Teeth. Could there be life outside a world surrounded in so much death?
I finished this one last night. The first time I tried to read it about a year ago, I couldn't get into it. So I'm so pleased that I did this time. It completely destroyed my heart, and when it wasn't doing that, it was making it pound against my chest. So sad and suspenseful. My review of this will be up Friday, June 29th.
Total: 3
Release Date: July 5, 2012 (UK)
Just your average boy-meets-girl, girl-kills-people story...


Cas Lowood has inherited an unusual vocation: He kills the dead.




So did his father before him, until his gruesome murder by a ghost he sought to kill. Now, armed with his father's mysterious and deadly athame, Cas travels the country with his kitchen-witch mother and their spirit-sniffing cat. Together they follow legends and local lore, trying to keep up with the murderous dead—keeping pesky things like the future and friends at bay.




When they arrive in a new town in search of a ghost the locals call Anna Dressed in Blood, Cas doesn't expect anything outside of the ordinary: move, hunt, kill. What he finds instead is a girl entangled in curses and rage, a ghost like he's never faced before. She still wears the dress she wore on the day of her brutal murder in 1958: once white, but now stained red and dripping blood. Since her death, Anna has killed any and every person who has dared to step into the deserted Victorian she used to call home.




And she, for whatever reason, spares his life.
I haven't started this book yet, but I probably will before I go to bed. I really hope I like it! I've heard some great things about it. I have the UK ARC of it because I was offered to review it, so of course I said yes!
Heist Society, by Ally Carter
(Heist Society, #1)
Publisher:
Hyperion
Release Date: February 9, 2010
When Katarina Bishop was three, her parents took her on a trip to the Louvre…to case it. For her seventh birthday, Katarina and her Uncle Eddie traveled to Austria…to steal the crown jewels. When Kat turned fifteen, she planned a con of her own—scamming her way into the best boarding school in the country, determined to leave the family business behind. Unfortunately, leaving "the life" for a normal life proves harder than she'd expected.




Soon, Kat's friend and former co-conspirator, Hale, appears out of nowhere to bring Kat back into the world she tried so hard to escape. But he has a good reason: a powerful mobster has been robbed of his priceless art collection and wants to retrieve it. Only a master thief could have pulled this job, and Kat's father isn't just on the suspect list, he is the list. Caught between Interpol and a far more deadly enemy, Kat's dad needs her help.




For Kat, there is only one solution: track down the paintings and steal them back. So what if it's a spectacularly impossible job? She's got two weeks, a teenage crew, and hopefully just enough talent to pull off the biggest heist in her family's history--and, with any luck, steal her life back along the way.
I've had this on my list forever. So I'm glad to have the ebook checked out from my library so I can read it! =D It sounds really good! I'll be reading this after Anna Dressed in Blood.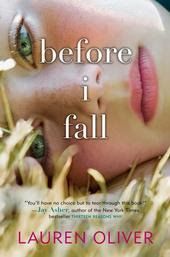 Before I Fall
, by
Lauren Oliver
Publisher:
HarperCollins
Release Date:
March 2, 2010
What if you only had one day to live? What would you do? Who would you kiss? And how far would you go to save your own life?




Samantha Kingston has it all: looks, popularity, the perfect boyfriend. Friday, February 12, should be just another day in her charmed life. Instead, it turns out to be her last.




The catch: Samantha still wakes up the next morning. Living the last day of her life seven times during one miraculous week, she will untangle the mystery surrounding her death—and discover the true value of everything she is in danger of losing.
I know, I'm very late in the game of reading this. But I saw it on the eBook catalog of my library and had to get it. It's been on my TBR list for a while! It's about time I mark it as "Read' =D
What did you read this week? Participate in any read-a-thons? I am! What are you currently reading?? Is it amazing? What do you plan on reading next?? Leave your comments below!