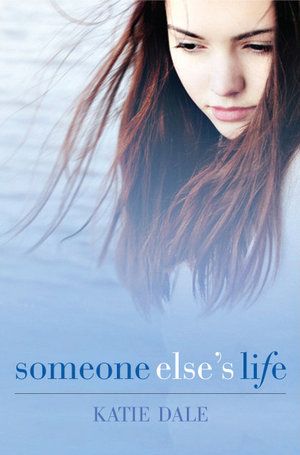 Someone Else's Life
, by
Katie Dale
Author Info:
Blog
/
Facebook
/
Twitter
Publisher:
Random House
Release Date:
February 14, 2012
ARC:
464 pages
Genre:
Young Adult Contemporary
Buy:
Amazon
Read it in:
5 days
Source:
Random Buzzers
Challenge:
Debut Author
,
YA Contemporary
Rating:
★
★
★
★

To learn more about my rating badges, click here!
When 17-year-old Rosie's mother, Trudie, dies from Huntington's Disease, her pain is intensified by the knowledge that she has a fifty percent chance of inheriting the crippling disease herself. Only when Rosie tells her mother's best friend, "Aunt Sarah," that she is going to test for the disease does Sarah, a midwife, reveal that Trudie wasn't her real mother after all. Rosie was swapped at birth with a sickly baby who was destined to die.

Devastated, Rosie decides to trace her real mother, joining her ex-boyfriend on his gap year travels, to find her birth mother in California. But all does not go as planned. As Rosie discovers yet more of her family's deeply buried secrets and lies, she is left with an agonizing decision of her own, one which will be the most heart breaking and far-reaching of all.
When I first added this book to my reading list for the
Debut Author Challenge
, I thought it sounded really good. I got excited when I saw it in the
Random Buzzer
's store, but when it got here I just let it sit. I really wanted to read it, but was worried about the tough subject. Not that I've ever known anyone with Huntington's, but I was still worried.
Yes, it was a bit hard at times, but it's a wonderful book. Katie Dale really did her research and you learn a lot about Huntington's while reading it. You also really get into the emotions of what it's like to love someone with the disease and all the effects it has on everyone.
Not only does she have the subject of Huntingtons, but she throws in what it would be like to be switched at birth! To have your mother, the woman you thought gave birth to you, die from Huntington's Disease, and then find out that you weren't really her daughter at all. If that happened to me, I would break down severely and sit in a dark closet for a very long time. But that's not what Rosie did!
Even though she loved the woman who she thought was her mother, the one who raised her, she wanted to know who her real parents were so she went searching! She hit a lot of obstacles along the way, but she was never completely selfish. Even when sometimes she had a right to be really upset and selfish, she tried her best to make the most of it.
Rosie was a really great character. It took me a while to get into the book and to get into Rosie's character, but as the story progressed I really started liking her character.Holly, on the other hand, completely annoyed me. At times, I really felt for her, but other times I just wanted to slap her. (Not going to tell you who she is!)
I really liked all the other characters. Especially Andy. I felt so bad for him a lot of the time, but he was a strong character. He was Rosie's rock.
Overall, this was a beautiful novel. It is also pretty uniquely written! Part One is told in chapters in Rosie's point-of-view. Part Two isn't cut up into chapters, but into point-of-views of Rosie and Holly.
If you've had someone close to you suffer from Huntington's Disease, or any disease at all, I highly recommend this book. Even if you haven't known any suffer from any disease, it's still a great book. Tough subject, but someone has to write them, right?! And Katie Dale chose to be the one with courage and to write this beautiful book. I'm very impressed and will definitely be keeping an eye out on Katie's work!