Past, Present & Future Reading Pile is a feature I do on my blog every Sunday to keep track of the books I read the week before, the book I'm currently reading, and the books I'm hoping to read in the upcoming week.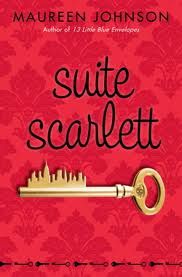 Suite Scarlett, by Maureen Johnson
(Scarlett, #1)
Publisher:
Scholastic Inc
Release Date: May 1, 2008
Scarlett Martin has grown up in a most unusual way. Her family owns the Hopewell, a small Art Deco hotel in the heart of New York City. When each of the Martins turns fifteen, they are expected to take over the care of a suite. For Scarlett's fifteenth birthday, she gets both a room called the Empire Suite and a permanent guest named Mrs. Amberson. Scarlett doesn't quite know what to make of this C-list starlet and world traveler.




And when she meets Eric, an astonishingly gorgeous actor who has just moved to the city, her summer takes a second unexpected turn.




Before the summer is over, Scarlett will have to survive a whirlwind of thievery and romantic missteps. But in the city where anything can happen, she just might be able to pull it off.
I really enjoyed reading this. It was a good quick contemporary to take me out of my fantasy worlds, lol. I love contemporary, but lately all the books I've been reading are urban fantasy or paranormal romance, which is another one of my faves.
I finished this one Wednesday, and then tried to read Graceling and I couldn't get into reading it on my Kindle for some reason. Which some books I can't read on the kindle, I have to get a physical copy of it, I know, I'm weird. And then I tried Enchanted and couldn't get into it so I moved on!
My review of Suite Scarlett was posted on Friday. You can read my review here.
Total: 1
Release Date: June 12, 2012
The second thrilling installment in Richelle Mead's Vampire Academy spinoff series




Tough, brainy alchemist Sydney Sage and doe-eyed Moroi princess Jill Dragomir are in hiding at a human boarding school in the sunny, glamorous world of Palm Springs, California. The students--children of the wealthy and powerful--carry on with their lives in blissful ignorance, while Sydney, Jill, Eddie, and Adrian must do everything in their power to keep their secret safe. But with forbidden romances, unexpected spirit bonds, and the threat of Strigoi moving ever closer, hiding the truth is harder than anyone thought.




Populated with new faces as well as familiar ones, Richelle Mead's breathtaking Bloodlines series explores all the friendship, romance, battles, and betrayals that made the #1

New York Times

bestselling Vampire Academy series so addictive. In this second book, the drama is hotter, the romances are steamier, and the stakes are even higher.
Aaaah! So glad to be finally reading this. I've had enough torture staring at it on my TBR pile on my night stand and I'm finally reading it! Not very far yet, haven't had much reading time, but aah! Excited!
Release Date: April 10, 2012
It was like a nightmare, but there was no waking up. When the night began, Nora had two best friends and an embarrassingly storybook one true love. When it ended, she had nothing but blood on her hands and an echoing scream that stopped only when the tranquilizers pierced her veins and left her in the merciful dark.




But the next morning, it was all still true: Chris was dead. His girlfriend Adriane, Nora's best friend, was catatonic. And Max, Nora's sweet, smart, soft-spoken Prince Charming, was gone. He was also—according to the police, according to her parents, according to everyone—a murderer.




Desperate to prove his innocence, Nora follows the trail of blood, no matter where it leads. It ultimately brings her to the ancient streets of Prague, where she is drawn into a dark web of secret societies and shadowy conspirators, all driven by a mad desire to possess something that might not even exist. For buried in a centuries-old manuscript is the secret to ultimate knowledge and communion with the divine; it is said that he who controls the Lumen Dei controls the world. Unbeknownst to her, Nora now holds the crucial key to unlocking its secrets. Her night of blood is just one piece in a puzzle that spans continents and centuries. Solving it may be the only way she can save her own life.
This is my Ambuzzador book for this season from
Random Buzzers
. It sounds really interesting. =D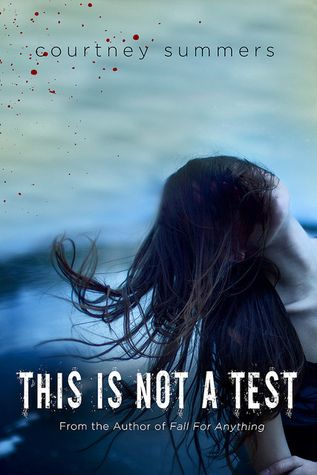 This is Not a Test
, by
Courtney Summers
Publisher:
St. Martin's Griffin
Release Date:
June 19, 2012
It's the end of the world. Six students have taken cover in Cortege High but shelter is little comfort when the dead outside won't stop pounding on the doors. One bite is all it takes to kill a person and bring them back as a monstrous version of their former self.




To Sloane Price, that doesn't sound so bad. Six months ago,

her

world collapsed and since then, she's failed to find a reason to keep going. Now seems like the perfect time to give up. As Sloane eagerly waits for the barricades to fall, she's forced to witness the apocalypse through the eyes of five people who actually

want

to live.




But as the days crawl by, the motivations for survival change in startling ways and soon the group's fate is determined less and less by what's happening outside and more and more by the unpredictable and violent bids for life—

and

death—inside.




When everything is gone, what do

you

hold on to?
I've only read one book by Courtney, which was her debut Cracked Up To Be and I liked it. So I really hope I like this one, it sounds interesting. =D
What books did you read this week? Currently? What will be next?? Let me know in the comments! Also, if you've read any of these books, let me know what you thought of them!