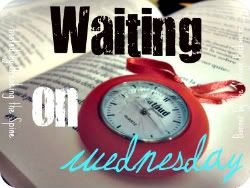 Waiting on Wednsday
is a weekly meme hosted by Jill @ Breaking the Spine.
WOW
spotlights upcoming releases that you are dying to read and can't wait to get your hands on!
The Unquiet, by Jeannine Garsee
Publisher:
Bloomsbury
Release Date: July 17, 2012
Pre-Order:
Amazon
Sixteen-year-old Rinn Jacobs has secrets: One, she's bipolar. Two, she killed her grandmother.




After a suicide attempt, and now her parents' separation, Rinn and her mom move from California to the rural Ohio town where her mother grew up. Back on her medications and hoping to stay well, Rinn settles into her new home, undaunted by the fact that the previous owner hanged herself in Rinn's bedroom. At school, her classmates believe the school pool is haunted by Annaliese, a girl who drowned there. But when a reckless séance goes awry, and terrible things start happening to her new friends—yet not to her—Rinn is determined to find out why she can't be "touched" by Annaliese...or if Annaliese even exists.




With the help of Nate Brenner, the hunky "farmer boy" she's rapidly falling for, Rinn devises a dangerous plan to uncover the truth. Soon reality and fantasy meld into one, till Rinn finds it nearly impossible to tell the difference. When a malevolent force threatens the lives of everyone she cares about--not to mention her own--she can't help wondering: who should she really be afraid of?
Why Do I Want It?
This sounds really interesting and unique. I'm really interested in seeing how this book plays out. Also, the cover is pretty cool as well. =D I like how she's looking at her reflection in the water, and it's blurry, but at the same time it's like she's kind of already in the water. Weird! =D