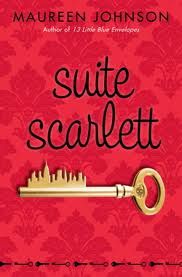 Series:
Scarlett
, #1
Publisher:
Scholastic Inc.
Release Date:
May 1, 2008
Genre:
Young Adult - Contemporary
Read it in:
2 days
Source:
Own
Challenge:
Off the Shelf
Rating:
★
★
★
★
Badges:

Her new summer job comes with baggage




Scarlett Martin has grown up in a most unusual way. Her family owns the Hopewell, a small hotel in the heart of New York City, and Scarlett lives there with her four siblings - Spencer, Lola, and Marlene.




When each of the Martins turns fifteen, they are expected to take over the care of a suite in the once elegant, now shabby Art Deco hotel. For Scarlett's fifteenth birthday, she gets both a room called the Empire Suite, and a permanent guest called Mrs. Amberson.
My first thoughts on starting this, was that it was definitely interesting. The first page is the start of the first "ACT", there are four acts in the book and each page begins with something that was taken out of a book about the hotel that Scarlett, the main character, lives in. So it added to the story and definitely drags you in curious about the hotel Scarlett lives in, and her family owns.
I've been wanting to read this for a long time, I've read a couple of Maureen's books before and I've either really liked or loved each one. So I knew I wouldn't be disappointed. And I wasn't! It wasn't "OHMYGOD" good, but it was definitely intriguing and fun to read.
Scarlett lives in a hotel that her family own, it's been passed down through the Martin family. It's not the most famous hotel in New York, it's actually one of the lesser ones. Normally they only have a total, if even, of five guests! But Scarlett still loves it. She lives there with her mom, dad, and siblings; older brother Spencer, Older sister Lola, and younger sister Marlene. She is most close with Spencer.
Scarlett was a fun character, at times I wanted to smack her for being so stupid, but she was overall a good and genuine character. I
loved her relationship with her family, especially Spencer. I really wish I had an older brother like, Spencer. There would be no frowns around him, as he's an actor and pretty goofy. I know I cracked up a lot at Scarlett and Spencer being around each other.
I also liked Eric, though times I was suspicious of how nice he was being, and for good reasons. WATCH OUT! But I still do love him. =D He was so nice and gentleman-y.
Amy, Scarlett's eccentric boss was...eccentric. Very interesting. She bugged me a lot of the time, but she was funny and a great, unique character. I'm looking forward to learning more about each and every one of these characters in the sequel.
Overall, this was a fun read. It wasn't my favorite, but it is definitely recommendable. It made me smile a lot and really too me out of my head for a while. Scarlett and Spencer get into a lot of trouble and it's fun watching them work it out and then fall head first into yet again another problem. If you haven't read this, you should if you like enjoyable contemporaries that are mostly for fun, no anything too "deep".
Buy:
Amazon
|
The Book Depository
The sequel is called Scarlett Fever. It was released on February 1, 2010.