Past, Present & Future Reading Pile is a feature I do on my blog every Sunday to keep track of the books I read the week before, the book I'm currently reading, and the books I'm hoping to read in the upcoming week.
My Soul to Take, by Rachel Vincent
(Soul Screamers, #3)
Publisher:
Harlequin Teen
Release Date: June 1, 2010
Kaylee has one addiction: her very hot, very popular boyfriend, Nash. A banshee like Kaylee, Nash understands her like no one else. Nothing can come between them.Until something does.

Demon breath.

No, not the toothpaste-challenged kind. The Netherworld kind. The kind that really

can

kill you. Somehow the super-addictive substance has made its way to the human world. But how? Kaylee and Nash have to cut off the source and protect their friends—one of whom is already hooked.And so is someone else…
I love this series and I love Rachel Vincent's books. It took me a bit to get into this book, but after a while I was sucked in and couldn't stop!
You can find my review
here
.
Total:
1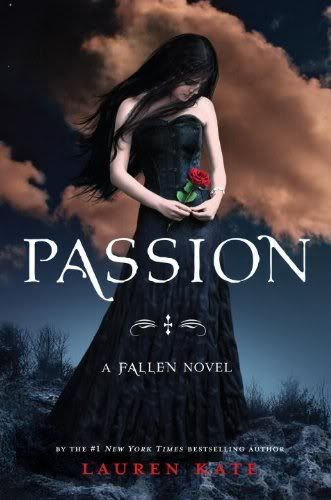 Release Date: June 14, 2011
Luce would die for Daniel.




And she has. Over and over again. Throughout time, Luce and Daniel have found each other, only to be painfully torn apart: Luce dead, Daniel left broken and alone. But perhaps it doesn't need to be that way....




Luce is certain that something - or someone - in a past life can help her in her present one. So she begins the most important journey of

this

lifetime...going back eternities to witness firsthand her romances with Daniel...and finally unlock the key to making their love last.




Cam and the legions of angels and Outcasts are desperate to catch Luce, but none are as frantic as Daniel. He chases Luce through their shared pasts, terrified of what might happen if she rewrites history. Because their romance for the ages could go up in flames...forever.




Sweeping across centuries, PASSION is the third novel in the unforgettably epic FALLEN series.
I only have about 100 pages of this left, so I'll probably finish it tonight or tomorrow morning. It's really good! I love this series. My review should be up tomorrow sometime, so watch out for that! =)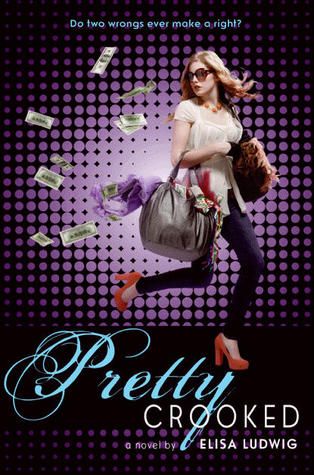 Pretty Crooked
, by
Elisa Ludwig
(
Pretty Crooked
, #1)
Publisher:
Katherine Tegen
Release Date:
March 23, 2012
Willa's secret plan seems all too simple: take from the rich kids at Valley Prep and give to the poor ones.




Yet Willa's turn as Robin Hood at her ultra-exclusive high school is anything but. Bilking her "friends"-known to everyone as the Glitterati-without them suspecting a thing, is far from easy. Learning how to pick pockets and break into lockers is as difficult as she'd thought it'd be. Delivering care packages to the scholarship girls, who are ostracized just for being from the "wrong" side of town, is way more fun than she'd expected.




The complication Willa didn't expect, though, is Aidan Murphy, Valley Prep's most notorious (and gorgeous) ace-degenerate. His mere existence is distracting Willa from what matters most to her-evening the social playing field between the have and have-nots. There's no time for crushes and flirting with boys, especially conceited and obnoxious trust-funders like Aidan.




But when the cops start investigating the string of burglaries at Valley Prep and the Glitterati begin to seek revenge, could he wind up being the person that Willa trusts most?
After I finish Passion, I'm going to be starting on this one. I'm really excited because it sounds really good.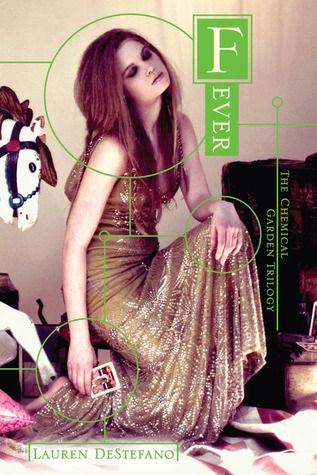 Fever
, by
Lauren DeStefano
(
The Chemical Garden
, #2)
Publisher:
Simon & Schuster
Release Date:
February 21, 2012
Rhine and Gabriel have escaped the mansion, but danger is never far behind.


Running away brings Rhine and Gabriel right into a trap, in the form of a twisted carnival whose ringmistress keeps watch over a menagerie of girls. Just as Rhine uncovers what plans await her, her fortune turns again. With Gabriel at her side, Rhine travels through an environment as grim as the one she left a year ago - surroundings that mirror her own feelings of fear and hopelessness.




The two are determined to get to Manhattan, to relative safety with Rhine's twin brother, Rowan. But the road there is long and perilous - and in a world where young women only live to age twenty and young men die at twenty-five, time is precious. Worse still, they can't seem to elude Rhine's father-in-law, Vaughn, who is determined to bring Rhine back to the mansion...by any means necessary.




In the sequel to Lauren DeStefano's harrowing

Wither

, Rhine must decide if freedom is worth the price - now that she has more to lose than ever.
I started this a couple of weeks ago, but got into a rut and didn't want to read anything. So now I want to start it again because I know it'll be amazing.
What did you read this week? Was it great? What are you currently reading? What's up next on your reading list? I'd love to know, so let me know in the comments so I can add more books to my TBR list. =)