Past, Present & Future Reading Pile is a feature I do on my blog every Sunday to keep track of the books I read the week before, the book I'm currently reading, and the books I'm hoping to read in the upcoming week.
I know this is late this week guys, and I'm sorry. I've been struggling with blogging and reading lately, not sure what's up with me. Just in a serious blogging rut. I'm trying really hard to get back, though! Just bare with me. =)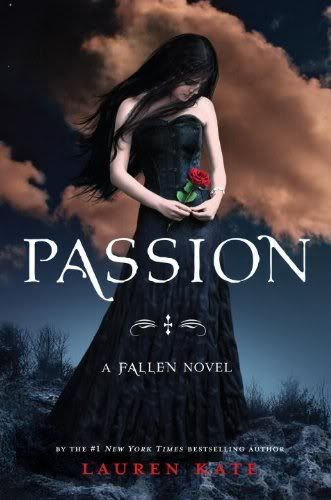 Passion, by Lauren Kate
(Fallen, #3)
Publisher:
Delecorte Press
Release Date: June 14, 2011
Luce would die for Daniel.




And she has. Over and over again. Throughout time, Luce and Daniel have found each other, only to be painfully torn apart: Luce dead, Daniel left broken and alone. But perhaps it doesn't need to be that way....




Luce is certain that something - or someone - in a past life can help her in her present one. So she begins the most important journey of

this

lifetime...going back eternities to witness firsthand her romances with Daniel...and finally unlock the key to making their love last.




Cam and the legions of angels and Outcasts are desperate to catch Luce, but none are as frantic as Daniel. He chases Luce through their shared pasts, terrified of what might happen if she rewrites history. Because their romance for the ages could go up in flames...forever.




Sweeping across centuries, PASSION is the third novel in the unforgettably epic FALLEN series.
I finished this on Monday. You can read my review here.
I also read a Soul Screamers Novella, My Soul to Lose, by Rachel Vincent. I don't really count that as a book though.
Total: 1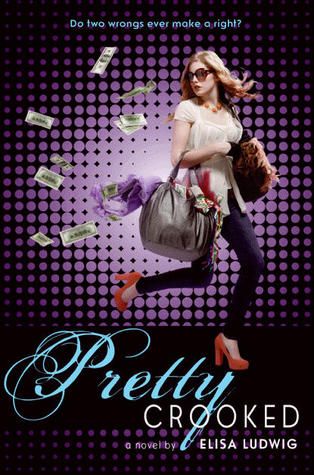 Release Date: March 23, 2012
Willa's secret plan seems all too simple: take from the rich kids at Valley Prep and give to the poor ones.




Yet Willa's turn as Robin Hood at her ultra-exclusive high school is anything but. Bilking her "friends"-known to everyone as the Glitterati-without them suspecting a thing, is far from easy. Learning how to pick pockets and break into lockers is as difficult as she'd thought it'd be. Delivering care packages to the scholarship girls, who are ostracized just for being from the "wrong" side of town, is way more fun than she'd expected.




The complication Willa didn't expect, though, is Aidan Murphy, Valley Prep's most notorious (and gorgeous) ace-degenerate. His mere existence is distracting Willa from what matters most to her-evening the social playing field between the have and have-nots. There's no time for crushes and flirting with boys, especially conceited and obnoxious trust-funders like Aidan.




But when the cops start investigating the string of burglaries at Valley Prep and the Glitterati begin to seek revenge, could he wind up being the person that Willa trusts most?
I'm on page 115. I've been reading this since Tuesday, I think, but I just haven't felt like reading much. But it's really good so far. =)
Two Truths and a Lie, by Sara Shepard
(The Lying Game, #3)
Publisher:
HarperTeen
Release Date: February 7, 2012
Sutton Mercer watches from the afterlife as her long-lost twin, Emma Paxton, takes over her identity to solve her murder. But after ruling out her early leads, Emma still hasn't found Sutton's killer. A lot of people wanted her dead—but one name keeps popping up: Thayer Vega. When the gorgeous and mysterious Thayer returns to town, Emma has to move fast to figure out whether he's back for revenge…or if he already got it.




Set in a town where friends can turn into dangerous enemies and everyone harbors dark secrets, The Lying Game is a juicy new series that fans of the #1 New York Times bestselling Pretty Little Liars series—and the hit ABC Family show—will love.
This is another one of my library books I need to finish. I really like this series and can't wait to continue it. =)
Born Wicked
, by
Jessica Spotswood
(
The Cahill Witch Chronicles
, #1)
Publisher:
Putnam Juvenile
Release Date:
February 7, 2012
Everybody knows Cate Cahill and her sisters are eccentric. Too pretty, too reclusive, and far too educated for their own good. But the truth is even worse: they're witches. And if their secret is discovered by the priests of the Brotherhood, it would mean an asylum, a prison ship—or an early grave.




Before her mother died, Cate promised to protect her sisters. But with only six months left to choose between marriage and the Sisterhood, she might not be able to keep her word... especially after she finds her mother's diary, uncovering a secret that could spell her family's destruction. Desperate to find alternatives to their fate, Cate starts scouring banned books and questioning rebellious new friends, all while juggling tea parties, shocking marriage proposals, and a forbidden romance with the completely unsuitable Finn Belastra.




If what her mother wrote is true, the Cahill girls aren't safe. Not from the Brotherhood, the Sisterhood—not even from each other.
Another library book. I've been dying to read this, can't wait to start it. I love witch books. And if you think this cover is beautiful online, you should see it in person. GORGEOUS.