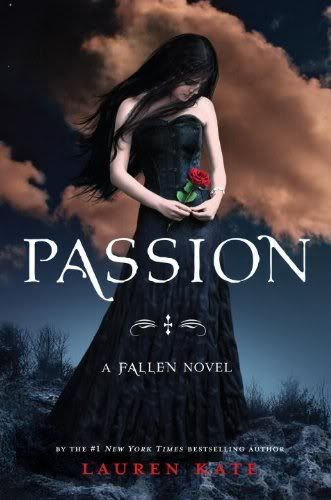 Series:
Fallen
, #3
Publisher:
Delecorte Press
Release Date:
June 24, 2011
Hardcover:
420 pages
Genre:
Young Adult - Paranormal Romance
Read it in:
6 days
Source:
Own
Challenge:
None
Rating:
★
★
★
★
★


Luce would die for Daniel.




And she has. Over and over again. Throughout time, Luce and Daniel have found each other, only to be painfully torn apart: Luce dead, Daniel left broken and alone. But perhaps it doesn't need to be that way....




Luce is certain that something - or someone - in a past life can help her in her present one. So she begins the most important journey of

this

lifetime...going back eternities to witness firsthand her romances with Daniel...and finally unlock the key to making their love last.




Cam and the legions of angels and Outcasts are desperate to catch Luce, but none are as frantic as Daniel. He chases Luce through their shared pasts, terrified of what might happen if she rewrites history. Because their romance for the ages could go up in flames...forever.




Sweeping across centuries, PASSION is the third novel in the unforgettably epic FALLEN series.
Okay, I know a lot of people have had issues with this book. But I didn't. I loved it. I know that it's basically just Luce stepping in and out of Announcers in different times and places, but I loved seeing her past lives with Daniel. I loved seeing them fall in love so deeply each time, it was so romantic. As you should already know if you've read the first two books (Which you better have if you're reading this review!!!), Daniel has had to watch Luce die over, and over, and over again with each reincarnation. He falls in love with her as a different person, with the same soul, each time and she falls in love with him and just as they start to proclaim that love, poof. She dies. It's so tragic, but such a romantic tragic love story.
Also, in this third installment, you get to read Daniel's point-of-view. Every other chapter is Daniel's. I really loved seeing through his eyes and getting an insight on his feelings and the way he thinks. It also adds a lot to the history of him and Luce, and the fallen angels.
The only thing that I can remember really bugging me was the fact that it seemed like Luce STILL needed to know about her love with Daniel after so many past lives. She knew after so many of them that their love was true, and she kept whining about missing him. I know, though, that this book was about learning about the past with them. But I hated how she basically whined through the whole thing.
And ugh, Bill. I knew something was up with him as soon as Luce met him. I was always suspicious of him, even when I kind of liked how he helped Luce. But the whole time I was waiting for him to do something. Not going to go into too much detail about him, ha. Or I'll give away everything with him and rant on and on and on about how...nevermind!
Overall, I loved this installment. I'm dying to read Rapture, but I want to save some time and read Fallen in Love. I'm really sad that Rapture is the last book. These books make me cry so hard. They make my heart hurt. The writing flows well and you fly through SO many pages so fast, even though the chapters are super long. Which I don't mind in these books. If you haven't tried this series yet, please do! I know a lot of people stay away from them because they are the type that is either a love, or a hate relationship. Can't be so-so about it, or at least I haven't seen anybody with a "Ooh, yeah I liked it. It was okay." feeling about it.
Author Info:
Website
|
Twitter
|
Facebook
Buy:
Amazon
|
The Book Depository
Add it:
Goodreads
|
Shelfari
There is a novella called Fallen in Love that was released after Passion, it was released on January 24, 2012. The fourth book is called Rapture, it was released on June 12, 2012.
Read my other reviews for this series: