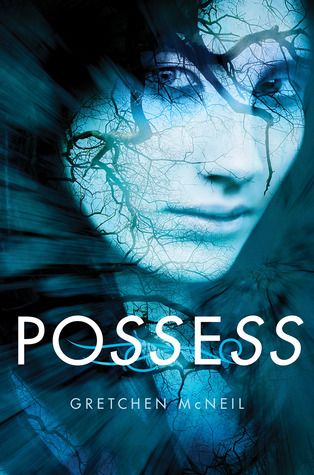 Publisher:
Balzer + Bray
Release Date: August 23, 2011
Hardcover: 279 pages
Genre: YA - Urban Fantasy
Read it in: 8 days
Source: Library
Challenges:
YA/MG Fantasy
Rating:
★
★
★
★

Rule #1: Do not show fear.Rule #2: Do not show pity.Rule #3: Do not engage.Rule #4: Do not let your guard down.Rule #5: They lie.


Fifteen-year-old Bridget Liu just wants to be left alone: by her mom, by the cute son of a local police sergeant, and by the eerie voices she can suddenly and inexplicably hear. Unfortunately for Bridget, it turns out the voices are demons – and Bridget has the rare ability to banish them back to whatever hell they came from.




Terrified to tell people about her new power, Bridget confides in a local priest who enlists her help in increasingly dangerous cases of demonic possession. But just as she is starting to come to terms with her new power, Bridget receives a startling message from one of the demons. Now Bridget must unlock the secret to the demons' plan before someone close to her winds up dead – or worse, the human vessel of a demon king.
I'm so glad I was finally able to read this. I added it to my TBR list last year before it had a cover and I remember getting goosebumps when I saw the cover finally. It's beautiful and creepy and fits very well, I think! But anyway, I won a giveaway last year for an awesome bottlecap necklace (You can see a pic of it I found on the net here.). After I got it I fell in love more and knew I needed to read it ASAP. But that didn't happen, sadly. Ha!
This book was so unique and enjoyable! I'm so mad I waited so long to read it, but at the same time I'm glad I waited because I've been in such a reading slump and this really made me want to read. And not only was it unique and enjoyable, but it was suspenseful and creepy as HELL! It made me SO paranoid while reading it at night. I kept waiting to hear whispers from the demons in my room.
There was also one scene that was SO creepy that made me thankful I don't have porcelain dolls anymore. My mom used to buy them all the time (She loves them...*shudders*) and have them in a glass cabinet and she would also buy some for me to put up in my room and I always had trouble falling asleep. Knowing those dead, glassy eyes were staring at me. Watching me. *shudders* I've always been creeped out by them, but this scene in this book REALLY made it that much worse.
The ghost kitty also kind of freaked me out. I was on edge for hours after reading that, ha!
Bridget. The main character. OMG. She was snarky, sarcastic, strong, doesn't need anyone to help her, and just so freaking kick ass. She was hilarious at times and other times I would feel bad for her for having this gift. She's definitely a great character and super fun to read about.
And Matt Quinn, oh God. At first I was kind of iffy about him but it didn't take me long to start talking to Bridget and telling her how stupid she was being with him. I wanted to smack her so many times and tell her to just give in to her feelings for him. He was a jock, yes, but oh so sweet and just...hot. *drools*
There is one guy who creeped me out from the start and I suspected him long before Bridget found anything out. Not going to name his name, though, don't want to give it away. But he was always weird to me. Glad my gut feeling was right!
The writing was amazing as well. I was hooked from the first page. I love how it basically launches right into things. Sometimes its a great thing when that happens. With some back story thrown in there so you can learn about the main character. Loved it.
Overall, this was a great book. The only thing I had a problem with was some parts were just weird to me....Can't really explain them. But other than that this book is amazing and I really hope they make a sequel. I've heard different things about that. Some people say there is a sequel planned, and others say there aren't. Does anyone know if there will be? It could be a standalone, but it does leave a few things left out there where a sequel could be added. I really hope there is, I want to see more Bridget and Matt. <3
I highly recommend this to fantasy lovers! I have never read a book about possession and this one was amazing!
Author Info:
Website
|
Twitter
|
Facebook
Buy:
Amazon
|
The Book Depository
Add it:
Goodreads
|
Shelfari