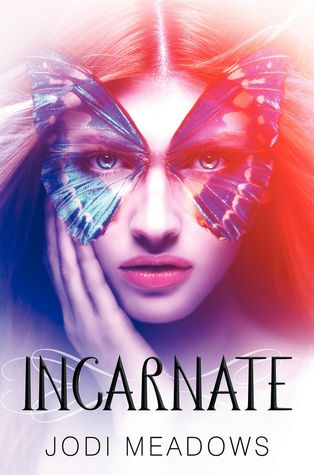 Series:
Newsoul
, #1
Publisher:
Katherine Tegen Books
Release Date:
January 31, 2012
Hardcover:
374 pages
Genre:
YA - Dystopia
Read it in:
2 days
Source:
Library
Challenge:
Dystopian
Rating:
★
★
★
★
★


New soul




Ana is new. For thousands of years in Range, a million souls have been reincarnated over and over, keeping their memories and experiences from previous lifetimes. When Ana was born, another soul vanished, and no one knows why.




No soul




Even Ana's own mother thinks she's a nosoul, an omen of worse things to come, and has kept her away from society. To escape her seclusion and learn whether she'll be reincarnated, Ana travels to the city of Heart, but its citizens are afraid of what her presence means. When dragons and sylph attack the city, is Ana to blame?




Heart




Sam believes Ana's new soul is good and worthwhile. When he stands up for her, their relationship blooms. But can he love someone who may live only once, and will Ana's enemies—human and creature alike—let them be together? Ana needs to uncover the mistake that gave her someone else's life, but will her quest threaten the peace of Heart and destroy the promise of reincarnation for all?




Jodi Meadows expertly weaves soul-deep romance, fantasy, and danger into an extraordinary tale of new life.
Wow. That is the word that still comes to mind when I think about this book. I finished this book on the 3rd of this month and the power of this book still stays with me. It completely blew me away and makes me want to go back right away and re-read it. I wish I would of been able to read this sooner!
As some of you may know, I'm a sucker for the Dystopian genre. And this Dystopian? Wow! This book was SO unique! I love Dystopians, but if you read a lot of Dystopians you see that some of them may be unique, but also have around the same type of things in them. (If that makes sense!) But I can't think of ANYTHING that is anywhere near this book.
Another thing that I happen to love and be really interested in is reincarnation. Which is also something that really drew me to this book. (Other than that GORGEOUS cover! I mean look at it! Every time I see it I have to stare at it for at least 5 minutes straight.) There is just something about reincarnation that is really interesting. And the people in this book know everything about their past lives! It's SO cool!
One thing bad about them knowing, is that they have all known each other for millions of years so when it comes to a random person popping up with a new and fresh soul, no one really signs up for the welcome committee. Except, for you know, Sam. *swoon* Saaaammmm. Him alone makes me want to grab a copy of this and read it again. He's so sweet and caring and hot and smart and is it getting hot in here?? *Shakes head to clear it.* Anyway, I absolutely LOVED his character. LOVED. I can't wait to see what will happen with him and Ana in the sequel. ( I am dying for the sequel SOOO bad. Anyone have an extra copy they want to send me as a Christmas prezzie? :P)
Although Ana bothered me sometimes, I really liked her character. She kept her guard up when it was needed and she was really smart. She may have been a newsoul and didn't have millions of years of experience, but she was really smart. And even when a lot of the people didn't welcome her with open arms, she still put her life at stake to help protect them when it was needed. She's extremely brave, and I really liked that about her. Plus, she was just fresh. You know what I mean, right?
Also, just to let you know, a lot of characters in YA nowadays are falling in love at first sight, which gets really old. That didn't happen with Sam and Ana. Yes, Sam was friendly toward Ana and they both put their lives at stake to help each other. But their relationship grew and grew after spending time with each other and as they learned more about each other. And their relationship was so pure and beautiful and after a while I was BEGGING for something to happen with them. It drove me CRAZY, but in a good frustrating way.
Overall, this book was amazing. I am definitely getting my own pretty copy soon so I can read it over and over again. It had everything in it that a great, amazing, and just beautiful book needs! Oh, and some dragons and sylphs too! :P If you haven't read this book, you need to ASAP. And if you don't have it on your TBR list yet, WHAT IS WRONG WITH YOU?! :O
Author Info:
Website
|
Facebook
|
Twitter
Buy:
Amazon
|
The Book Depository
Add it:
Goodreads
|
Shelfari
The second book in this series is called Asunder. It will be released on January 29, 2013.