Past, Present & Future Reading Pile is a feature I do on my blog every Sunday to keep track of the books I read the week before, the book I'm currently reading, and the books I'm hoping to read in the upcoming week.
Under The Never Sky, by Veronica Rossi
(Under the Never Sky, #1)
Publisher:
HarperTeen
Release Date: January 3, 2012
Since she'd been on the outside, she'd survived an Aether storm, she'd had a knife held to her throat, and she'd seen men murdered. This was worse.




Exiled from her home, the enclosed city of Reverie, Aria knows her chances of surviving in the outer wasteland - known as The Death Shop - are slim. If the cannibals don't get her, the violent, electrified energy storms will. She's been taught that the very air she breathes can kill her. Then Aria meets an Outsider named Perry. He's wild - a savage - and her only hope of staying alive.




A hunter for his tribe in a merciless landscape, Perry views Aria as sheltered and fragile - everything he would expect from a Dweller. But he needs Aria's help too; she alone holds the key to his redemption. Opposites in nearly every way, Aria and Perry must accept each other to survive. Their unlikely alliance forges a bond that will determine the fate of all who live under the never sky.
I absolutely adored this book. It was so addicting and amazing. Even my husband loved it! <3 Can't wait for the sequel. January can't get here fast enough!
Total: 1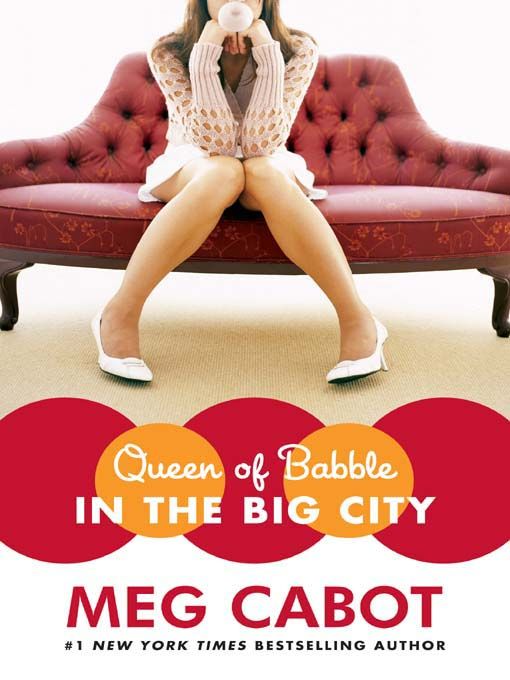 Queen of Babble in the Big City, by Meg Cabot
(Queen of Babble, #2)
Publisher:
William Morrow
Release Date: June 26, 2007
Lizzie Nichols is back, pounding the New York City pavement and looking for a job, a place to live, and her proper place in the universe (not necessarily in that order).




When "Summer Fling" Luke uses the L word (Living Together), Lizzie is only too happy to give up her plan of being postgrad roomies with best friend, Shari, in a one-room walk-up in exchange for cohabitation with the love of her life in his mother's Fifth Avenue pied-a-terre, complete with doorman and resident Renoir.




But Lizzie's not as lucky in her employment search. As Shari finds the perfect job, Lizzie struggles through one humiliating interview after another, being judged overqualified for the jobs in her chosen field--vintage-gown rehab--and underqualified for everything else. It's Shari's boyfriend Chaz to the rescue when he recommends Lizzie for a receptionist's position at his father's posh law firm. The nonpaying gig at a local wedding-gown shop Lizzie manages to land all on her own.




But Lizzie's notoriously big mouth begins to get her into trouble at work and at home almost at once--first at the law firm, where she becomes too chummy with Jill Higgins, a New York society bride with a troublesome future mother-in-law, and then back on Fifth Avenue, when she makes the mistake of bringing up the M word (Marriage) with commitment-shy Luke.




Soon Lizzie finds herself jobless as well as homeless all over again. Can Lizzie save herself--and the hapless Jill--and find career security (not to mention a mutually satisfying committed relationship) at last?
I started reading this Saturday, and so far it's so good! Just like I remember the first book being. I mean, c'mon, it's Meg Cabot. I just checked the date when I read the first book, and my review was posted November 7, 2011! So it's been a whole year since I read the first book! *gasp* HOW!?
Queen of Babble Gets Hitched, by Meg Cabot
(Queen of Babble, #3)
Publisher:
William Morrow
Release Date: June 24, 2008
Big mouth. Big heart.Big wedding. Big problems.It's the wedding of the century.


Things are looking up at last for Lizzie Nichols. She has a career she loves in the field of her choice (wedding gown restoration), and the love of her life, Jean-Luc, has finally proposed. Life's become a dizzying whirl of wedding gown fittings--not necessarily her own--as Lizzie prepares for her dream wedding at her fiance's chateau in the south of France.




But the dream soon becomes a nightmare as the best man--whom Lizzie might once have accidentally slept with . . . no, really, just slept--announces his total lack of support for the couple, a sentiment the maid of honor happens to second; Lizzie's Midwestern family can't understand why she doesn't want to have her wedding in the family backyard; her future, oh-so-proper French in-laws seem to be slowly trying to lure the groom away from medical school and back into investment banking; and Lizzie finds herself wondering if her Prince Charming really is as charming as she once believed.




Is Lizzie really ready to embrace her new role as wife and mistress of Chateau Mirac? Or is she destined to fall into another man's arms . . . and into the trap of becoming a Bad Girl instead?
I am most likely going to read this after I finished the 2nd book in the series. I'm 99% positive! I love this series.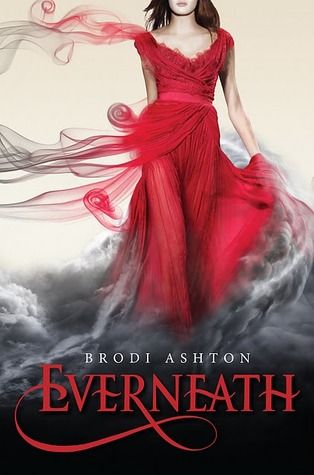 Everneath, by Brodi Ashton
(Everneath, #1)
Publisher:
Balzer + Bray
Release Date: January 24, 2012
Last spring, Nikki Beckett vanished, sucked into an underworld known as the Everneath. Now she's returned--to her old life, her family, her boyfriend--before she's banished back to the underworld . . . this time forever. She has six months before the Everneath comes to claim her, six months for good-byes she can't find the words for, six months to find redemption, if it exists.




Nikki longs to spend these precious months forgetting the Everneath and trying to reconnect with her boyfriend, Jack, the person most devastated by her disappearance--and the one person she loves more than anything. But there's just one problem: Cole, the smoldering immortal who enticed her to the Everneath in the first place, has followed Nikki home. Cole wants to take over the throne in the underworld and is convinced Nikki is the key to making it happen. And he'll do whatever it takes to bring her back, this time as his queen.




As Nikki's time on the Surface draws to a close and her relationships begin slipping from her grasp, she is forced to make the hardest decision of her life: find a way to cheat fate and remain on the Surface with Jack or return to the Everneath and become Cole's queen.




"Everneath" is a captivating story of love, loss, and immortality from debut author Brodi Ashton.
So if I actually manage to finish the second and third Queen of Babble books this week, I most likely may be diving into this one. I've been dying to read it. :) It's my last book that I need to read from my last library haul before the eight I just got....
Sorry I haven't been doing much on the blog lately. I've been in such a rut and haven't felt like reading much or blogging much. But since I've been reading some wonderful books lately (i.e. the last two books I finished were Incarnate, by Jodi Meadows and Under the Never Sky, by Veronica Rossi and they are both 5 star books!), but I hope to get back into things ASAP! Please bear with me! :)
What did you read this week? Any great 5 star books? Were any of them Dystopian like mine? What are you currently reading? What's next up on your list? Let me know in the comments below!