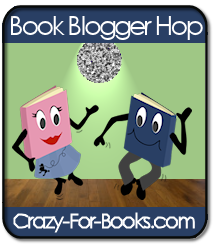 This meme is a way for book bloggers and readers to connect with other book lovers. Each weekend a new question is posted for book bloggers to answer on their blogs. The Book Blogger Hop lasts from Friday to Monday each week. Go to this weeks
post
to find out more information on this meme.
This weeks question is:
Do you ever wish you would have named your blog something different?
So far I haven't had any issues with wanting my blog's name to be something else; I love my blog name. I spent hours and hours trying to think up the perfect name. I'm horrible at trying to name things sometimes, especially blog names. I knew I wanted it to be book-related and I had already had a layout made for it, but I just needed to have the name.
People are constantly calling me a bookworm, or a book nerd. (I know 99% of you probably deal with that as well. :)) So I thought of having Bookworm in there somewhere, but just didn't know what else to add to it. But then I thought about my layout, which was a damask print at the time. I am fascinated with a lot of vintage things and sometimes think I was born in the wrong time era. That maybe I should of been born a few decades ago. I was looking for a vintage looking picture of a girl with a book, and that's when it hit me. "the Vintage Bookworm".
I know it's not very creative, but I love it. :) And I don't think I will have the urge to change it anytime soon.