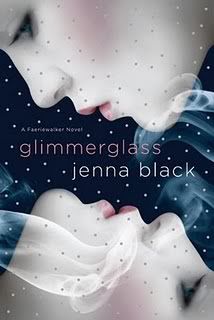 Glimmerglass
by
Jenna Black
Faeriewalker, book #1
Next book in series:
Shadowspell
Publisher:
St. Martin's Griffin
Paperback:
294 Pages
Age Group:
Young Adult (12+)
Buy:
Amazon
Source:
Library
Challenge:
Support Your Local Library
Overall:

It's all she's ever wanted to be, but it couldn't be further from her grasp…
Dana Hathaway doesn't know it yet, but she's in big trouble. When her alcoholic mom shows up at her voice recital drunk, again, Dana decides she's had enough and runs away to find her mysterious father in Avalon: the only place on Earth where the regular, everyday world and the captivating, magical world of Faerie intersect. But from the moment Dana sets foot in Avalon, everything goes wrong, for it turns out she isn't just an ordinary teenage girl—she's a Faeriewalker, a rare individual who can travel between both worlds, and the only person who can bring magic into the human world and technology into Faerie.
Soon, Dana finds herself tangled up in a cutthroat game of Fae politics. Someone's trying to kill her, and everyone seems to want something from her, from her newfound friends and family to Ethan, the hot Fae guy Dana figures she'll never have a chance with… until she does. Caught between two worlds, Dana isn't sure where she'll ever fit in and who can be trusted, not to mention if her world will ever be normal again…
(Summary from Goodreads.)
First Paragraph:

The absolute last straw was when my mom showed up at my recital drunk. I don't mean tipsy—I mean staggering, slurring, everyone-knows drunk. And as if that wasn't bad enough, she was late, to, so that when she pushed through the doors and practically fell into a metal folding chair at the back, everyone turned to glare at her for interrupting the performance.

First off, Glimmerglass was amazing. I liked it a lot more than I originally thought I would. Don't you just love when that happens? I kept hearing amazing things about this book, the cover was gorgeous and the summary sounded like something I'd like. I love books with Fae in them, and this is not your typical fae book! Black created her own, unique world.

I was sucked straight into the story and Dana's world from page one. Black's writing flowed well and I easily read through twenty pages without even realizing. I started this book before bed, which was a mistake. I told myself I was only going to read the Prologue, just to get a feel for the book and then I'd turn out the light and go to bed. I started to do that, but then I kept thinking about Dana. So I had to turn the light back on and read another chapter, and then another, and then another. I finally forced myself to stop at chapter five! Ha ha!

I found myself thinking about Dana and Avalon while doing other things. I couldn't stop. I couldn't shut off my thoughts. I was always thinking about the world that Black had created and wondering what would happen next.

I kept thinking a romance would unfold throughout the novel, but it never really did. There were a few kisses here and there, and some flirting, but never really an actual love story. But it does show a possibility of a love triangle. Maybe in Shadowspell?

I really like Ethan, but I like Keane more. He's a major moody, bad-ass, hottie! I liked him from the start! :)

Dana was a really good protagonist. I didn't really have any issues with her. I liked reading through her perspective. She was easy to relate to and realistic. She was spunky, and overall a fun character. She was a bit whiny and childish at times, but she knew how she was being and either stopped herself or just kept doing it anyway.

I really loved how open Dana's world was. Where both the fae and humans knew about each other. It was different from the normal part where the supernatural creature was suppose to just be a fairytale.

Overall, the only real issue I had in this book was the fact that in the beginning you didn't really learn much about what it meant for Dana being a faeriewalker. Other than that this was a great start to a new fae series.

Cover:

I really love the cover. It looks all shiny and pretty online, but wait until you see it up close! I didn't know the sparkly dots on the cover were actual shiny spots made into the cover! If you move it up and down, it sparkles! Absolutely gorgeous! As soon as I grabbed it I kept moving it around and ooh-ing and ah-ing. And plus, it just LOOKS faerie-like.
Cover art: Cover design by Jason Ramirez. Cover photograph by Rekha Garton.
I recommend this to: I recommend this to anyone who loves fairies. Wait, no, even if you don't like fairies, you might still like this book. It's very unique!
Other books by this author: (Urban Fantasy) The Morgan Kingsley series, (Paranormal) The Guardians of the Night series, and more!
Rating Breakdown:
Plot:18/20
Characters: 20/20
Creativity: 20/20
Writing: 20/20
Ending: 20/20