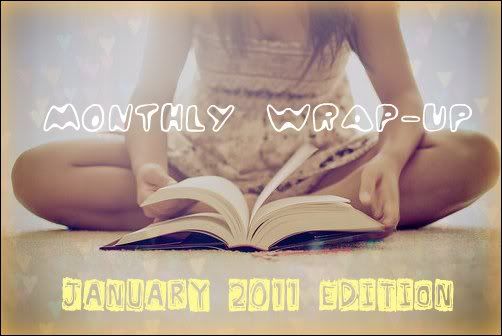 Monthly Wrap-Up
is going to be a monthly feature that I will post on the first day of each month to do a wrap-up of what all happened here at the Vintage Bookworm the month before. Reviews posted, books I read, Meme's I participated in, etc.

Books Reviewed:
Reviewed on January 1, 2011
Gave it a three heart rating
Reviewed on January 2, 2011
Gave it a five heart rating
Reviewed on January 12, 2011
Gave it a five heart rating
Reviewed on January 18, 2011
Gave it a five heart rating
I joined in on the Bloggiesta fun this year! Bloggiesta is a weekend long challenge (Friday-Sunday) to do all book blogging things. It's a way to try and improve your blogs and to get some things done that you have on your blogging 'To-Do list'.
Here are my 2011 Bloggiesta posts:
Kristi
, the Story Siren's, little cousin. If you have time, please go read this post and also make sure to take a look at Kristi's original post on her blog,
here
!
I would also like to give a shout-out to all of my followers I have gained this month. Thank you so much for following my blog and reading! It means a lot to me and I am so excited to have you reading my blog.
Here are my awesome followers! You should check out their blogs! Some of you have been a follower since December. But I'd still like to add you on here.
Again, thank you for being such awesome followers!
So, what did you think of this feature? Would you like to see another Monthly Wrap-Up next month? Do you have any questions? Any suggestions of what I should have on the next one if I continue?