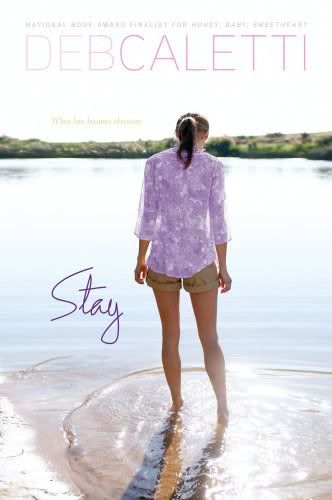 Stay by Deb Caletti
Publisher:
Simon & Schuster/Simon Pulse
Release Date: April 5, 2011
Hardcover: 320 Pages
Age Group: Young Adult (12+)
Buy:
Amazon
Add to Goodreads
Source: Received an ARC from Simon & Schuster in exchange for an honest review.
Challenge: none
Overall:

Clara's relationship with Christian is intense from the start, and like nothing she's ever experienced before. But what starts as devotion quickly becomes obsession, and it's almost too late before Clara realizes how far gone Christian is—and what he's willing to do to make her stay.
Now Clara has left the city—and Christian—behind. No one back home has any idea where she is, but she still struggles to shake off her fear. She knows Christian won't let her go that easily, and that no matter how far she runs, it may not be far enough....
First Paragraph: First off, I've never told this story to anyone. Not the entire thing anyway, and not entirely truthfully. I'm only telling it now for one reason, and that's because an untold story has weight that can submerge you, sure as a sunken ship at the bottom of the ocean. I learned that. This kind of story, those kind of things kept secret

—they have the power to keep you hidden forever, and most of all from yourself. The ghosts from that drowned ship, they keep haunting.
*Note: Since it's only the ARC I read, some of the things in it are subject to change. So any quotations on here amy be changed in the bound copy of the book.*
First of all, I have to say, that I haven't read anything by Caletti before reading this. I have heard many things about her being a great writer and have a lot of her books on my to-read list, but I've never actually read anything by her until now. And I have to say that I will DEFINITELY be reading more from her in the future. Preferably sometime very soon.
You can tell straight off from the summary that this book is intense. But you don't get the full impact until you start the book. It starts off with the chapters alternating back and forth between the present Clara, and the before Clara when she was dating Christian. After reading the first chapter I seriously wondered why the hell she was even with Christian. How had she gotten to the point she was now? I would of left Christian a LONG ago if it were me. But after reading the chapters of when she was with him, you really start to understand why she couldn't let go of him. It wasn't JUST his controlling nature, it was of her own reasons as well.
I flew through the chapters so fast, and not JUST because of how great the writing was and that it flowed so well, but the fact that when I was reading each chapter, I wanted to read through it so fast to get to the next chapter. When I was reading a chapter about Clara from the past when she was dating Christian, I desperately wanted to get back to the present Clara. And the other way around. I never wanted to put this book down!
My heart went through so many different emotions as the story progressed and switched between past and present Clara. I felt everything she did. My heart pounded with each chapter, wondering what Christian would do next in her story of the past.
Caletti's writing is just so beautiful and descriptive, and I LOVED her footnotes in this book. She had a lot of them and they were all in Clara's voice so it just added to the affect.
And her characters. Oh my gosh, I loved all of them. All of them were so different and had a story of their own it seemed. The only character I didn't like, that you got to know, was Christian. Of course. I just seriously want to slap him and shake him asking him what the hell is wrong with him and to just FREAKING LET GO!
Throughout the novel you really see Clara grow up, which I'm very glad for. She went through something horrible and really had to learn her lesson. She is a great character with a great voice. Her and her story will forever be in my heart.
It's a tie with my second favorite character. Finn, and Clara's dad. Finn was such a sweetheart and someone she REALLY needed after such a horrible break-up. And her dad, oh my gosh her dad. He was hilarious and he was just such an amazing father. He knew how to balance being a best friend towards her, and being her father. It all depended on what she needed at the time. He was such a cool dad. Clara is so lucky. :P
Overall, this was a great read. I already want to go back and re-read it. Stay is brilliantly honest and hits a subject that is very serious and maybe not EVERYONE can relate to it, but it makes it all the more special to the women who have been through the same thing Clara has. It is a very enjoyable read, even if you haven't been through something like this. Just makes you very grateful for not having to deal with such a subject.
Cover:

I absolutely love this cover! It's gorgeous. I love how the water looks and how it looks as though she's stepping into the water and trying to kind of start fresh and throw away her fear. And I love the font on the cover, it fits well.
Cover art: Design by Mike Rosamilia
I recommend this to: Anyone who loves a good contemporary fiction story, and who loves to read books that hit a serious subject.
Plot: 20/20
Characters: 20/20
Creativity: 20/20
Writing: 20/20
Ending: 20 /20