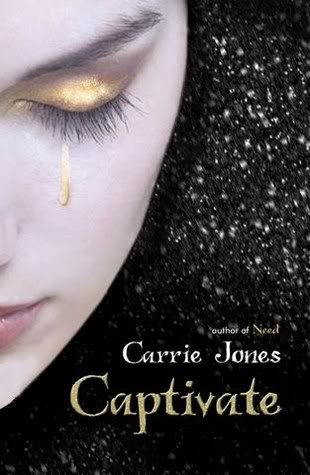 Captivate by Carrie Jones
Series: Need, book #2
Read my review for Need.
Next book in series:
Entice
Publisher:
Bloomsbury USA
Release Date: January 5, 2010
Paperback: 273 Pages
Age Group: Young Adult
Buy:
Amazon
Add to Goodreads
Source: Bought
Challenge: None
Overall:

5

/5
Zara's pixies are locked away in the forest, but that doesn't mean the threat is gone. In captivity, the king's needs grow stronger and his power weakens. When a new king, Astley, arrives and tells Zara she's fated to be his queen, Zara discovers she's in deeper than she ever imagined.
First Paragraph:

There are those bizarre people who actually like physical education class. You expect these people to grunt a lot and enjoy the great art of sweating. You expect them to wear designer PE gear and yell stuff like, "Dude, we are going to rock this freaking volleyball court." While I don't do any of those things, I swear I am still one of those bizarre PE-loving people.
Captivate
was very...captivating! Just like it's previous novel,
Need
.
Captivate
picked up right where
Need
left off. I really love when a series does that. It pulls you in from page one and doesn't let you go until the ride is over.
You get to know the characters a lot better in the second installment. Which I loved! I love all the characters, I can't really pick one that I don't like. Other than most of the evil pixies, obviously. Not only do you get to know the characters more from the first novel, but you meet a whole new character named Astley. I really liked him, but he really has me curious. I'm not sure if I really trust him yet, maybe we'll find out more about him in the next installment, Entice.
I don't really know what else to say about this book, it's just one of those books you can't really explain. This book took me on a roller coaster of emotions. Like all good books should. ;)
I really liked the new additions to the book as well, like Valhalla, and I can't wait to read more! I'll be picking up Entice soon to read! Hopefully when I go in to the library this week they'll have it!
Overall, this book was amazing. I loved it. Not as much as I loved Need, but it's still a favorite!
I recommend this to all pixie lovers. ;) This is NOT your average tinkerbell story.
Cover: I love all of the Need series covers. They are all gorgeous.The face photograph is by Veer Incorporated and the cover design is by Nicole Gastonguay.