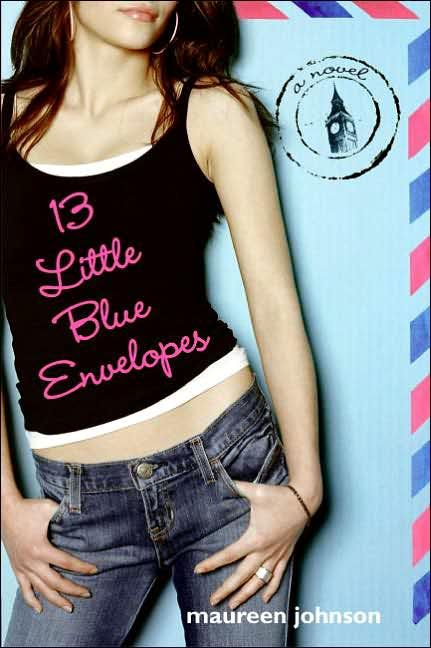 13 Little Blue Envelopes
by
Maureen Johnson
(
Little Blue Envelopes
, #1)
Publisher:
HarperTeen
Release Date:
August 23, 2005
Hardcover:
336 pages
Age Group:
Young Adult
Buy:
Amazon
Source:
library
Challenge:
Support Your Local Library
Overall:

When Ginny receives thirteen little blue envelopes and instructions to buy a plane ticket to London, she knows something exciting is going to happen. What Ginny doesn't know is that she will have the adventure of her life and it will change her in more ways than one. Life and love are waiting for her across the Atlantic, and the thirteen little blue envelopes are the key to finding them in this funny, romantic, heartbreaking novel.
13 Little Blue Envelopes
was a fun, cutesy read. It made me wishful for a long vacation in Europe. *sigh* Ginny got to go on an awesome adventure. I mean, what happened with her Aunt was very sad, but at least she got to learn a bit more about her while she was on the adventure she put together.
I really liked a lot of the people Ginny met along the way, especially Keith. He was really nice. I really liked Richard as well, I think him, Ginny and Keith were my favorite characters. I kind of wish we could of seen some more scenes of Ginny and her Aunt, her Aunt seemed like one of a kind.
The writing was fun to read, I've read a few books by Maureen before, she's a great writer. I'm really curious as to how the sequel to this book will go. I kind of thought that
13 Little Blue Envelopes
left off pretty well, other than the fact she didn't get to read the 13th letter, therefore having the sequel present itself. I'm really interested in finding out about that 13th letter. =D
I really liked the plot. I think every high schooler would say "Yes, yes, YES!" to have an adventure like Ginny's, minus everything with her aunt. I think it would be fun to have a set of rules and envelopes to direct the course you travel to and what you do there, though I would like a day or two in each place to just have some free time to do whatever you like when you got what you needed to get done, done. Right? =)
Overall, if you want something just plain out fun to read and cute, go grab this book. It was fun to read, I enjoyed every minute of it.
The
cover
is okay, but I think I like the new paperback cover way better, plus it fits better with the sequel. =)
The sequel is called The Last Little Blue Envelope. It was released April 26th, 2011.