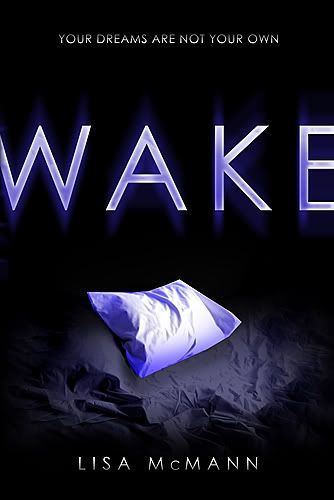 Wake
by
Lisa McMann
(
Dream Catcher
, #1)
Publisher:
Simon Pulse
Release Date:
December 23, 2008
Paperback:
224 pages
Age Group:
Young Adult
Buy:
Amazon
Source:
Bought
Challenge:
A to Z
,
Off the Shelf
,
Book Blogger Recommendation
Overall:

For seventeen-year-old Janie, getting sucked into other people's dreams is getting old. Especially the falling dreams, the naked-but-nobody-notices dreams, and the sex-crazed dreams. Janie's seen enough fantasy booty to last her a lifetime.




She can't tell anybody about what she does -- they'd never believe her, or worse, they'd think she's a freak. So Janie lives on the fringe, cursed with an ability she doesn't want and can't control.




Then she falls into a gruesome nightmare, one that chills her to the bone. For the first time, Janie is more than a witness to someone else's twisted psyche. She is a participant....
I read this book at the beginning of this month (September). I have been trying to figure out what to say in my review. It has really made me think about the rating of it, because it's not really a three, or really completely a four. I really liked this book, but it wasn't my favorite.
It was a little hard to get into and a little hard to read at times because the sentences were kind of choppy, but I got into it after a little while and got used to it. I really liked the idea of Janie being able to enter someone's dream, but I wouldn't want to live someone's nightmares!
I want to read the next book in the series, but it's not at the top of my list.
I feel bad for how Janie has had to grow up. Her mom isn't the best at all, she needs to get stuff together and start acting like a mother to Janie. She's an alcoholic.
I'm glad she started making friends, plus maybe more, with Cabel. He seemed like a nice guy. Can't wait to see how much farther that goes in the next book.
Overall, I'm sorry I don't really have much to say about this book, hopefully it will get a lot better in the second book. Which I will try and pick up soon. =) Also, I will be checking out more of McMann's books, I'd like to see how the rest of her writing style is.
The cover fits the book well, but isn't one of my favorites.
The second book in the series is called Fade. It was released on February 10, 2009.