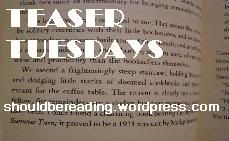 Teaser Tuesday is a Meme hosted by Mizb @ Should Be Reading. Anyone can join in, as long as they do the following:
Grab your current read.
Open your book to a random page
Share two (2) "teaser" sentences from somewhere on that page.
Warning: Not everyone has read your current read, be courtesy to those who haven't and not reveal any spoilers.
Share the Title & Author so anyone can add your current read to their list if they wish to do so.
*Note: all my links go to Goodreads, the authors website, and the publishers website.
Release Date: May 5th, 2009
Belly measures her life in summers. Everything good, everything magical happens between the months of June and August. Winters are simply a time to count the weeks until the next summer, a place away from the beach house, away from Susannah, and most importantly, away from Jeremiah and Conrad. They are the boys that Belly has known since her very first summer--they have been her brother figures, her crushes, and everything in between. But one summer, one terrible and wonderful summer, the more everything changes, the more it all ends up just the way it should have been all along.
I was brushing my teeth in the upstairs bathroom when Jeremiah came in, shutting the door behind him. Reaching for his toothbrush, he said, "What's going on with you and Con? Why are you guys so mad at each other?" He hopped up onto the sink.

pg. 122