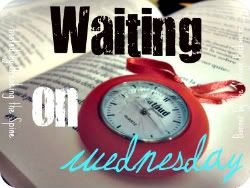 Waiting on Wednsday is a weekly meme hosted by Jill @ Breaking The Spine. WOW spotlights upcoming releases that you are dying to read and can't wait to get your hands on!
Note: All my links go to Goodreads, the author's website, and the publisher's website.
Release Date: January 5, 2012
Pre-Order:
Amazon
Anna Winterson doesn't know she's a witch and would probably mock you for believing in magic, but after moving to the small town of Winter with her father, she learns more than she ever wanted to about power. When Anna meets Seth, she is smitten, but when she enchants him to love her, she unwittingly amplifies a deadly conflict between two witch clans and splits her own heart in two. She wants to love Seth, to let him love her – but if it is her magic that's controlling his passion, then she is as monstrous as the witch clan who are trying to use her amazing powers for their own gain.

Although a perfect fit for the paranormal romance genre, A WITCH IN WINTER avoids fangs, excessive body hair and submissive female leads, and tells the heart-wrenching story of a couple meant to be together, but being forced apart. Seth is utterly irresistible and Anna is an empowered, proactive young woman with unimaginable magic inside her. This is fast-paced, sensuous writing with believable incantations inspired by Warburton's research into witchcraft legend and old English.
Not only is this a 2012 debut, but it involves witches! One of my top, TOP favorite supernatural beings in the whole wide world! I know, I'm a dork. But doesn't this sound absolutely AMAZING! I would sell my soul for a copy of this book right now! Literally! Really, I'm not kidding. Also, to add to the amazingness of this book, it has a gorgeous cover! *sigh*
What are YOU waiting on this Wednesday?! I'd love to know!