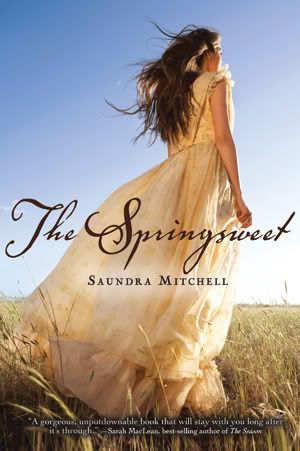 The Springsweet
, by
Saundra Mitchell
(
The Vespertine
, #2)
Author Info: Website
|
Twitter
|
Youtube
Publisher:
Harcourt Children's
Release Date:
April 17, 2012
Hardcover:
275 pages
Genre:
Young Adult - Historical Fiction
Buy:
Amazon
Read it in:
3 days
Source:
Publisher
Challenge:
None
Rating:



To learn more about my rating badges, click
here
!
Heartbroken over the tragic death of her fiancé, seventeen-year-old Zora Stewart leaves Baltimore for the frontier town of West Glory, Oklahoma, to help her young widowed aunt keep her homestead going. There she discovers that she possesses the astonishing ability to sense water under the parched earth. When her aunt hires her out as a "springsweet" to advise other settlers where to dig their wells, Zora feels the burden of holding the key to something so essential to survival in this unforgiving land. Even more, she finds herself longing for love the way the prairie thirsts for water. Maybe, in the wildness of the territories, Zora can finally move beyond simply surviving and start living.
I was really excited to spring back into this world after reading The Vespertine, even though I didn't absolutely love the first book. Also, with the ending, I was kind of upset when I found out that Amelia wouldn't be the narrator in this book, but also a bit intrigued. I really liked Zora in the first book.
After a while, I got sucked in. Zora changed a lot since the first book, due to her loss, but I really like the change in her. I was really sad for her in the beginning of the book, but after a while she met two guys who could potentially be the one after Thomas.
When I wasn't reading this book, I was thinking about it. Historical Romance is definitely one of my favorite genres now. I've liked what I've read of Historical Romance, but I haven't read that much of it, but I definitely will be now! I love the late 1800s, with all the courting and seasons. It's so romantic! Imagine if we were back in that time period and a
kiss
was either a ruin or a way of marking someone as your own. Sealing your fate with a kiss! It's so romantic! Gah!
The writing and descriptions were so beautiful. They painted a vivid picture in my mind and I was so sucked in that I didn't even see anything in the world around me! The chapters are so long it seems, but so much happens and the book seems longer than 275 pages, which isn't a bad thing. It as really good with this book!
I want more! I want more Zora and Emerson, and I'm so happy with the last line on the book! But at the same time I was like, "IT CAN'T END LIKE THIS!!". I'm really looking forward to what is going to happen in the third book. There isn't a summary or anything yet on it, so I'll definitely be looking out for that, but I really hope it's with Amelia and Zora! If it's another narrator, I think I may cry and be very upset.
Zora is definitely my favorite of the two! And gah, I'm so intrigued by these random magics that are in these books. In the first book, Amelia has a gift of seeing into the future at sunset, and in this book Zora finds an infinity for water, which is AWESOME. And another special someone, I'm not saying who, has an infinity for the earth and can make flowers, and gardens grow!
Overall, this was a really great book. I really enjoyed it and I'm very eager to find out about the third book. I wish it was out. I don't have the luxury of finishing one and starting on the next anymore. If you like historical romance, this is definitely the series for you! =)
The third and final book in this series is called Aetherborne, it is set to release in 2013.
Read my review for the first book in this series: